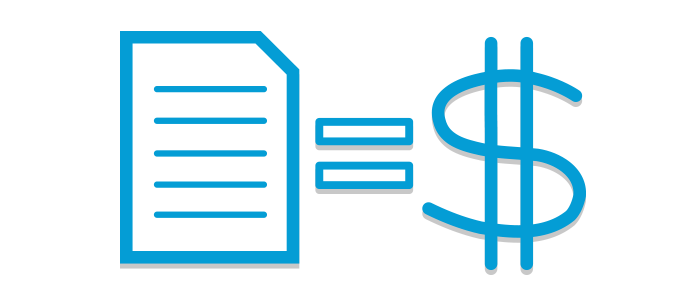 4 Reasons Why Print Pieces are a Good Investment
Money needed to create revenue can be hard to come by, and as the internet turns 25, the value of printed materials isn't always obvious. Current marketing trends are moving toward online and cross-media marketing, it is easier to see that a well-thought-out printed campaign could help increase profit in the coming year. Here are 4 reasons why investing in print can be a moneymaker for your organization.
1. Printed Pieces Have a Higher Perceived Value.
With Newsweek becoming an exclusively online media outlet, and Amazon's Jeff Bezos purchasing The Washington Post, it can be difficult to see where the value in printed materials. However, according to Nigel Boterwill, founder of Entrepreneur Circle, printed newsletters are "the single most effective tool to making relationships with customers" ("Why Printed Newsletters May be Your Most Effective Marketing Tool"). Boterwill says that printed materials, newsletters specifically, have a "higher perceived value, a longer shelf-life, establish trust and build relationships and establish credibility."
As people have shifted away from print, those who choose to use it are generating more creative and unique designs. With the less common use, a well designed print piece stands out, and makes the organization stand out as well. Others may find print pieces nostalgic, a tangible item that taps into their emotional sides and adding a lasting effect.
2. There are Opportunities to Connect.
Printed items allow for organizations to connect with a variety of different people. Even those in younger generations still enjoy being given something palpable to walk away with, to put on their desk or in the mail to revisit later. For example in the article titled, "Don't Hide in the Bushes: How to use Direct Mail to Target Millennials," Tim Hickles asserts that "…90 percent of Millennials believe direct mail ads are reliable and 57 percent have made a purchase based on a direct mail offer." Additionally, in the same article he cites that according to ExactTarget's 2012 Channel Preference Study, "direct mail is the only channel where an unsolicited message isn't considered inappropriate."
In addition to creating a personal touch and reaching the younger generation, you can also show your company or organization's personality. Your printed materials can be personable and communicate to your customers the story behind the company, the story behind what you do, and organization values and tenements. They give you a great opportunity to connect with those you're trying to reach.
Likewise, by injecting some personal touches and personability into your printed materials, you demonstrate to customers their overall value to the company and you also demonstrate a level of realness for your organization.
3. Campaigns Can Be Memorable and Bold.
Since so few companies are incorporating cross marketing complete with printed materials, it is an ideal business climate to be bold. You don't have to send out tried and true, yet boring mailers.
Instead, try to incorporate more daring materials like plantable paper, foldable calendars, and recyclable materials that can be used in practical application by the recipient.
Additionally, these materials should be designed with the modern consumer in mind, so before heading out to the design studio, know your demographic and design, and order materials accordingly.
4. Printed Pieces Have More Credibility.
Because so many of us have been bitten by the random online ad virus, we have a certain distrust of online marketing even as we embrace it in many ways, like in social media consumption. Printed materials can add credibility to your organization or brand. It's easy to understand a scammer spending little to no money to send an email or put a pop-up ad on a page, but it seems less likely that someone trying to hustle you in the same way would use an effectively designed mailing campaign.
Print is not dead, and it has a proven track record for producing quality leads and returns on investment. Print offers you the flexibility to stand out with unique campaigns, or use timeless campaigns. To get you started, here are a few printed materials you should consider incorporating into your marketing strategies:
Mailers with practical uses.
Ad space in magazines.
Stickers for branding power.
Corporate identity packages (Link this text to our stationery in the portfolio), starting with business cards.