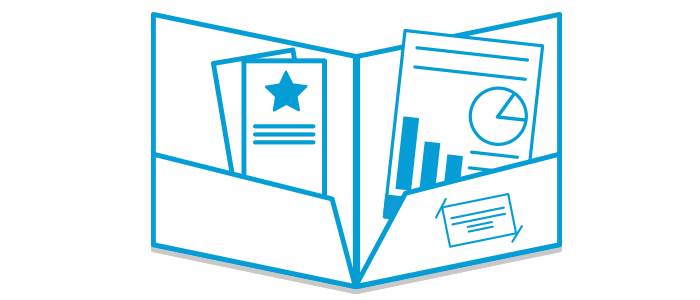 5 Printed Materials for Your Conference
Planning a large conference or annual meeting can be tough and costly. Sometimes meeting attendees don't know how much work is involved behind the scenes. It takes a lot of time, planning and more to pull off a conference for a couple hundred people or a couple thousand people. In addition to figuring out all of the logistics, it is important to determine which types of printed materials you should invest in for the event.
Here is a list of some of the most beneficial printed materials you should order to make your annual conference a success:
1.    Direct Mail Postcards/Save the Date Cards
Your conference planning needs to start well in advance to the actual conference, and your members need to be notified of the event well in advance for their own planning purposes. A direct mail campaign to announce the conference is a great way to start. These save-the-date cards should be sent to past attendees, and all current members. You should view these postcards as a type of invitation, and they should include all relevant and known logistical information (date, time, city location, and venue). If you do not have all of this information at the time of the mailer campaign, you should include a QR code and/or web address for participants to check at their leisure in the months leading to the conference. Using a URL shortener, like bit.ly, will make it easier to type, and you can track the number of people who have visited the page.
To read more about a stellar direct mail campaign click here.
2.    Handouts: Corporate Identity Packages and flyers
On the day of the conference it is a good idea to have packets similar to a corporate identity packet that includes conference brochures and flyers, business cards for pertinent POCs, and other important organization literature and stats. Included in this packet could also be information related to the conference and scheduled activities. You can also include little tidbits about the surrounding area and fun things to do for the participants and their families, should they choose to bring them.
3.    Conference Journals, Pocket Agendas and Notebooks
Included in the Day-of-Packet, organizers should also consider the validity of giving participants something to take home with them, like a journal, an agenda or notebook. If you give participants a take away, you've given them something that is lasting and practical. It also acts as a reminder to attendees about the conference itself that may help encourage them to come back the following year. Additionally, giving participants something that they can carry around with them to take notes will enable attendees to be productive and get the most out of their time at the conference. To read more on the benefit of conference agendas click here. (add link when other published)
4.    Presentation Folders
If a packet is too costly and journals seem out of reach, you could also consider handing out presentation folders with a small pocket notebook or a few sheets of paper for attendees to take notes as they move from presentation to presentation. If you choose to hand out folders, remember to have them printed with your organization logo and also add the logo to any other materials you may hand out to enable brand recognition.
To read more on branding click here.
5.    Room Signs and Directories
You most likely need to have room signs and directories. While giveaways are sometimes optional at conferences, you can't neglect the signage. Make sure you have an ample amount of signs indicating individual events and their designated rooms in addition to daily schedules and venue directories.
To read more about the best types of signage for your conference click here.
Planning a conference leads to many print considerations. Whether it comes to mailing invitations, printing giveaways, or ensuring proper directional signage, keep your purpose and budget in mind, and you'll be able to decide on the most effective print items to reach your goals. If you have any questions, feel free to email us at support@ctrservices.com. We're here to help.
To read more on the benefits of conference giveaways click here.